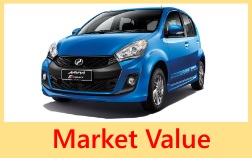 Your vehicle is one of your major asset which required yearly insurance coverage.  It is important that you clearly know your vehicle's market value so that you can insured it adequately.  Over-insuring your vehicle will cost you to pay more insurance premium, while under-insuring your vehicle will cost you a leg and arm when it comes to claim.
To determine your vehicle's market value, there is several sites that can provide you with an best estimated.  Compare among these sites to make a reasonable conclusion.  There is no absolute market value as these value depreciate over times.  Alternately, you can insured your vehicle based on Agreed Value instead of market value,
Agreed Value is the VALUE that your car insurance company agreed upon, thus when it comes to claim, Payout will be based on this agreed value.  Depending on Insurance Companies, Agreed Value may differs.
Check out this link to see your vehicle agreed value adopted by Allianz General Insurance.
Websites to check your car market value
MYCARINFO
MyCarInfo's Vehicle Market Value service can help you get an idea of what a vehicle is worth. Just fill in the vehicle's details and get an estimate of the market value of the vehicle.
The values in this database are derived based on extensive research by MyCarInfo Automotive Intelligence team and updated on a monthly basis. The database dates back to the year 1995 and is limited to private cars and light commercial vehicles only.
CARLISTING SITES
Car Listing sites, such as carlist.my, oto.my mudah.my etc could be a good resource site for you to reasonably gauge your car market value.  Comparing these car for sale and the asking prices, take in consideration of other factors such as car conditions, additional features, accident free to determine your market value.